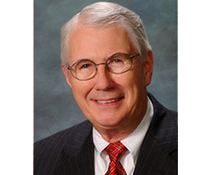 Ron Littlepage: Remembering Bill Birchfield
Feb 11, 2016
One of the pleasures of this job is getting the chance I wouldn't otherwise have to know people who have contributed mightily to Jacksonville.
One was Bill Birchfield, known to his friends as W.O. for the initials of his full name.
W.O. died last week at the age of 80.
Previous articles in the Times-Union have listed the many accomplishments of his life, from being in on the ground floor of consolidation to championing the construction of the Dames Point bridge to heading up numerous civic organizations.
In my almost 40 years in journalism in Jacksonville, I tracked many of the issues he was involved in.
But W.O. and his wife, Dana Ferrell Birchfield, were also my neighbors, and I particularly liked hearing him share stories about hunting.
Read Ron Littlepage's ode to Bill Birchfield here.